We are humans, so we change. Not just mentally, also on the surface. Stars are are humans too, so they also change. Many of 'em change their hair styles cuz of films. But what've been better? Before change, or after change? We'll know...
Selena Gomez is half-mexican, so usually tan and dark-haired like brwon or black what looks great. But she once wear a blonde wig for a photo shoot, and that looked bad, and it looks like she wouldn't feel comfortable too. Actually I love all of her haircuts, except the one with the bangs. Doesn't look good.
Miley Cyrus wore a blonde wig as Hannah Montana, as Miley Stewart she was brown-haired. After breaking up with Nick Jonas, she dyed her hair black what makes her pale. She dyed it into butterscotch and in Never Say Never she put up her extensions what's the best. Then it got nearly blonde, what's a bit weird, but the it got butterscotch again and long, that's awesome.
Leighton Meester (
Gossip Girl, The Roommate, Country Strong
) is actually natural blonde, she just dyed her hair brown for her role as Blair Waldorf in
Gossip Girl
and she usually wears it brown since that. Hair matters in her life cuz she is model for
Herbal Essences
, which has great hair-care products, I use it too. I totally prefer brown cuz it's more suitable with her skin tone and probably cuz I'm used to it too.
Kristen Stewart dyed her hair a lot of times for her movies. I love the short brown hair, the long brown hair and the red hair. Actually I really like blonde, it looks awesome! But red-brown is also cool. Only black makes her pale and lookin' sick somehow.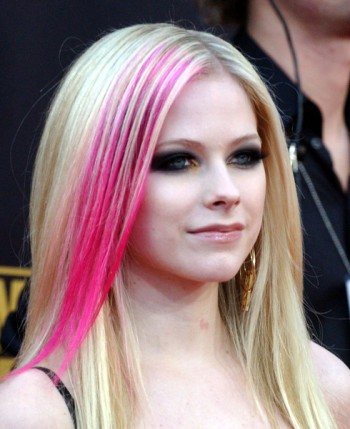 Punk girl Avril Lavigne was dark blonde at
Complicated
, but the she dyed it blonde, what looked great. With the pink highlight too and also with black ones. But pink AND green is too much and green and black looks a bit Halloween-like. But we like you how you like you, Avril!
Rihanna was brown-haired on
Pon de Replay
, then black and short. It got blonde and then red. Now it's red and curly. I like that the 4th one the most, but red is always cool.
Emma Watson shocked the world with her short cut. I think, it looks good, but I liked the long version better. When Harry Potter started, she had brwon hair then she got lighter to dark blonde, that's the best cut, I think.
The beautiful singer, actress and model has usually dark brown hair. For her role as Kat Valentine in Victorious she dyed it red and wears it straight. I like the red more cuz it makes her look special.
Blake Lively, which we know as the rich beauty Serena van der Woodsen in Gossip Girl, dyed her hair red for the movie
Hick
with Chloe Moretz. I like both, but I prefer blonde. It's just more her. The red doesn't look unnaturally, but her skin tone is'nt pale enough for being ginger-haired.
Little hottie Jake T. Austin who plays Max Russo in
Wizards of Waverly Place
dyed his hair black for one episode. No big difference, both great. But black makes him look latino-like, I like that.
Teen-Star Emma Roberts wore dark brown hair in her TV show
Unfabulous
and brown hair in
Wild Child
. For a couple of months she wears black, what really suits her. Although she's very pale, it makes her look kinda mysterious.
Ashley Green plays Alice Cullen in the
twilight saga
and wears a short black wig in the movie. She's usually tan so they have to put on much make up to make her look pale. I love her natural long, brown waves fitting to her skin tone. Alice is just funny.
Rachel Bilson looks always great, although the blonde hair needs getting used to, but I like it, especially the cut. Brown is a bit difficult cuz of her skin tone, but dark brown is awesome.
Nikki Reed dyed her hair blonde for twilight, but in new moon she wore a wig. It looks both great, but I prefer brown, she's tan so it looks more naturally.
Camp Rock-Star Demi Lovato is half-mexican, so she looks great in black and brown. But that light color doesn't look good or naturally.
Emily Osment, Co-Starring in
Hannah Montana
as Lilly Truscott, dyed her hair blonde a few months ago. It doesn't look bad, but it makes me mad that everybody's thinking they'd look better or they'd even be better when they'd be blonde.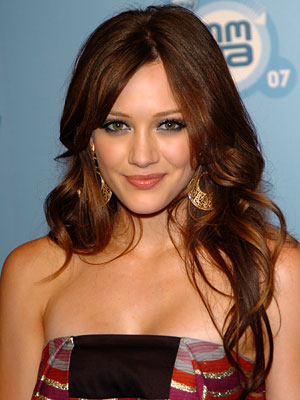 Hilary Duff aka Lizzie McGuire looks great in both colors, I really can't decide. Her skin is so suitable to brown and blonde, so...
Ashley Tisdale was blonde from the start of her career in
The Suite Life of Zack & Cody
, but like a year ago she tried somethin' new (or old) and dyed it back to brown what looks awesome. I like her blonde hair too, but not her bottle blonde hair in
High School Musical
. Brown is the best.
Peter Facinelli plays Carlisle Cullen in twilght, so he had to dye his hair into blonde what looks good with the pale skin, but not with his usual tan skin. Brown looks better.
Kellan Lutz plays Emmett Cullen in twilight so he dyed his hair into black, what looks a bit strange. Blonde looks better on the
Calvin Klein
-model.
Drew Barrymore, usually known blonde, what looks great, but red-brown looks way better than blonde. But this blonde-black and just black is bad.
Taylor Momsen who plays Jenny Humphrey in
Gossip Girl
was usually light brown to dark blonde but then she dyed her hair ito bottle blonde and it's like that till today. She once was down-to-earth, but now she's bitchy somehow. Not just on TV, in reality too. But I like the light blonde more than brown.
We all know how big the shock was when Britney Spears had no hair anymore. I guess, this isn't her best hair style. Black was also a bad decision. Brown is great, but we love Britney in her usual blonde waves, although she's usually brown-haired.
It-Girl Nicole Richie looks always good. I like both, dark brown and blonde, I actually can't decide what's better.
Ashlee Simpson tries all hair colors. I don't like her in blonde, black is okay, but the best one is definitely ginger-haired. It's suitable with her skin tone and she look awesome.
Beauty Scarlett Johansson looks better in dark blonde, I guess. This dark brown's letting her look pale and with the red lipstick...um, no.
Lindsay Lohan also changed much. 3rd: Blonde. It looks bad. Just bad. 2nd: Dark Brown. It's okay. But it looks strange somehow. 1st: Ginger-haired! She's rocking her natural color and it looks gorgeous!
Reality-Girl Kim Kardashion dyed her hair dark blonde for a photo shoot. I have to say, it doesn't look bad, but her tan skin isn't suitable. We love you more in your natural dark brown!
Model Agyness Deyn (actually Laura Hollins) is known for her crazy styles. But I'm used to her light blonde hair and I'm not to her black hair. Please stay blonde.
Cameron Diaz wears usually blonde hair, but her brown hair looks really great too. I can't decide. But ... I like brown better.
Jessica Alba went thru color changes. I like brown the most, it looks naturally and fits to her tan skin. Blonde and black are also great. But red isn't good and the dark blonde doesn't fit to her skin tone.
Chris Brown has an beautiful skin tone, but he ruins it with blonde. It just doesn't look good. I like his natural color, brown, way better.
Pink wore pink hair on the start of her career, suitable to her name. She wore also brown, but I like that rocking, blonde cut the most. Pink = Rock Goddess
My Space-Queen Lily Allen in pink?? No. The black looks unnaturally. I don't like all of it, but blonde is the best choice.
Christina Aguilera, once teen-star, went thru many changes. I prefer blonde, but without pink. And please not silver and black. And only black isn't great too.
Gwen Stefani was a lil' bit crazy. So we don't wonder 'bout her pink hair. Actually I like it. I also like that candy cotton color, like light pink. Blonde is also great, but brown is too normal for her.
Who knows how she really looks? Stefani Germanotta aka Lady Gaga looks different every nite. Usually she's like dark brown. Her first try was bottle blonde, but maybe it's a wig. Nobody knows what's still real about this woman. Then yellow (what I like the most) and on the finale of Germany's next Topmodel she was turquoise-haired. If you ask me, it looks like she's got a blondehairline and the turquoise is growing out of it. Strange.
Jessica Biel looks definitely in light brown. The blonde looks unnaturally.
Julia Roberts, aunt of Emma Roberts, looks great in blonde and red, but I don't like black. Makes her pale.