The Japanese fashion label "Comme des Garçons" by Rei Kawakubo is trending in Hollywood. The label was famous from beginning, so I don't wonder why. The most popular line is 'Play' what includes a heart with eyes on it. On tees, on shoes, on cardigans,... This lovely heart is loved by celebrities, lets show some examples...
Justin Bieber, wearing this tee in private and on stage. On the second picture with a cool Marc Jacobs jacket.
Jaden Smith and family, wearing a white-red version of 'Play', with family. He's a friend of Justin, and I saw Dan Kanter, his guitarist, wearing a black 'Play' tee in Berlin on stage two months ago. Justin influences his friends...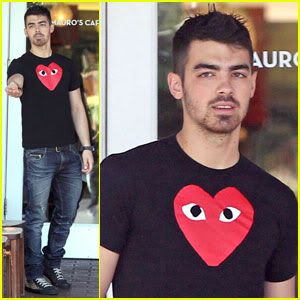 Joe Jonas, disney star wearing this black-red version. Nuff said.
Comme des Garçons even did a collaboration with Allstar Converse and the result is pretty cool.